About the One Singapore Mission Team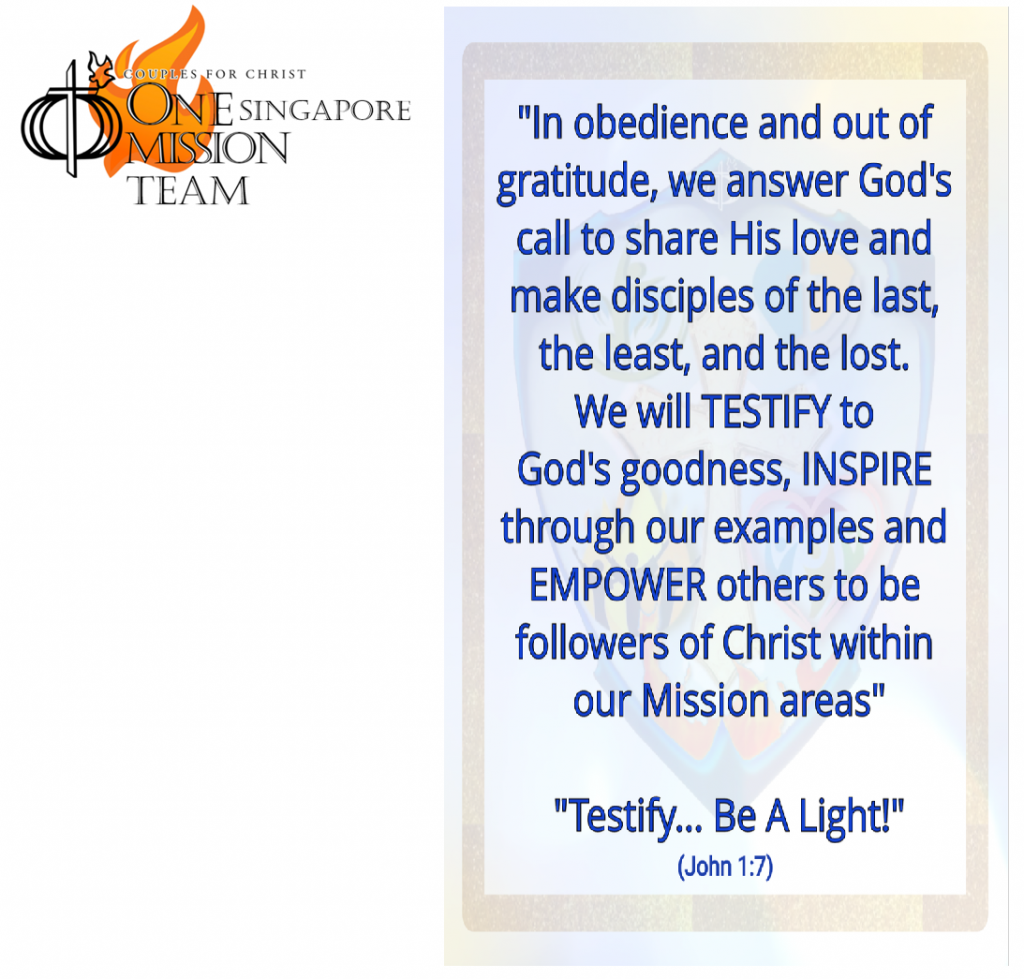 The great commission is a call by our Lord Jesus Christ to bear witness to His redeeming & empowering love & to help form empowered Christian communities. A popular author once said, "The greatness of a church is not in her seating capacity, but in her sending capacity." The message then lifted from Matthew 28:18-20 is an inspiration to move us to love in response to the call, "Then Jesus approached and said to them, "All power in heaven and on earth has been given to me. Go, therefore, and make disciples of all nations, baptizing them in the name of the Father, and of the Son, and of the Holy Spirit, teaching them to observe all that I have commanded you. And behold, I am with you always, until the end of the age."
CFC SG started to send out mission volunteers in 1995. However, it was in January 2010 when CFC SG began to offically broaden its horizon by embarking on international missions. The first Mission Volunteer Workshop was held on the 16th-17th of January 2010 at CAEC. Five mission teams were organized after the formation training. Additional four more were formed in 2011. Each team was assigned a mission area to support, nurture, and grow.
Through the years, the CFC SG Mission Ready Teams conducted mission volunteer trips in Perth & Darwin, Australia; Chiang Mai & Phuket, Thailand; Batam, Indonesia; KL, Melaca, & Johor Bahru, Malaysia; Timor Leste; Myanmar; Beijing and Macau, China; Incheon & Seoul, South Korea; Chennai and other areas in Tamil Nadu, India; and in Ulaanbatar & Dharkan, Mongolia. In order to sustain the growing mission work, more leaders and members from the community attended the Mission Volunteers Training and signed up to become members of the various mission teams.
For our mission volunteers, the opportunity to go on mission and witness the goodness of the Lord in the mission areas is a two-fold blessing. The mission area visited not only gets to be supported, encouraged, & strengthened in its faith journey, but in the process, such an act also helped form & enlarge our mission volunteers' hearts to continue to go on mission and experience the joy of the Lord in the mission work.
In July 2018, the CFC SG Mission Ready structure was re-organized. The Mission Ready Teams were re-structured to form the CFC SG – One Mission Singapore Team. The main purpose of the re-structuring was to widen the mission volunteer pool and to give more members of the entire community the opportunity to experience the joy of the Lord in going out to mission. To kick-off the formation of the new One Mission Singapore Team, the revised On-Fire Mission Training was conducted on the 2nd of March 2019. It was widely attended and resulted to an even bigger and a re-energized SG Mission Team. With the new structure, the support to the current mission areas were distributed and assigned across the eight CFC Chapters in Singapore, with each Chapter having a mission area to focus on. We saw more of our brothers & sisters used & empowered by the Lord, becoming more faithful, fruitful & committed to the Lord's service. While the global pandemic has prevented our Mission Volunteers from going out to the countries they support, we are still able to continue to serve our mission areas virtually through the use of Zoom for online teachings and household meetings.
As we continue to nurture our international missions, we recognize that our first mission areas are our own respective families and our local parishes. Nevertheless, it is an exciting period for CFC SG to go out there and proclaim the goodness of the Lord. With God's abundant grace, CFC Singapore envisions itself to be a Regional Mission Center in South East Asia in 5 years' time. And, mightily used by the Lord, may He find us worthy to proclaim His goodness & love in the many years to come, not only in Asia Pacific but to the rest of the world. (15th September 2021)